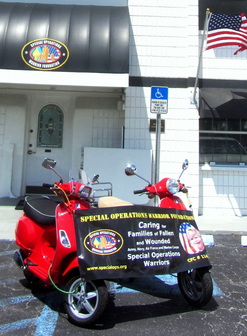 Sargent Major Stacy Stapleton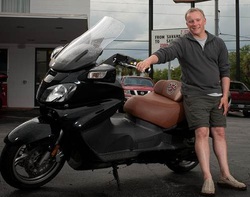 For The Big Red Scooter Project's first donation we chose the Special Operations Warrior Foundation to honor one of our own, Command Sargent Major Stacy "Spiff" Stapleton. Sargent Major Stapleton served his country throughout the world for 24 years in the Army Special Forces. The Big Red Scooter Project met Stacy and Maria, his wife, in 2012 on the Scooter Cannonball rally from Savannah to San Diego. Despite suffering from terminal cancer and fighting daily pain, Stacy bravely faced the challenge of the cross country event.



This is Stacy's self introduction to the participants of the Scooter Cannonball
:

"Hi all, My name is Stacey. My wife, Chilip signed up and asked if we would "fit in" on our larger
scooters and gave a brief description of why I was considering it. After having
the honor, and I do mean it has been an honor, of serving my country for 24
years. Cancer brought about a retirement too early for me. Not many deployments
have I been involved in could stand up to the onslaught a cancer life can bring.
Give me a bullet any day. An 8 month death sentence has turned into a 6 year
F.U. to cancer and all it tries to take. Excuse my choice of words...but it just
fits in my opinion. Without my wife, it probably would have ended in 4
months."

"That said, I count it as divine intervention I found out about
this run. I have seen very little of the country that I love and have served.
And not to be too caberet about things. But Frank Tabor, Maroy, Godzilla and
Georgia Girl. Your responses have gone much further than words in a post and
further than the internet has a reach. My wife read them, her eyes welled up
with tears. She said, we are not going to do this for cancer, for the soldiers
or anyone else we usually dedicated ourselves too. We are doing it for
us.......because your still here. And we can."

"Thank you to everyone. It has already been an amazing ride with all of you."



Stacy discussed his fight with cancer openly and with little remorse. In the 6 year fight, he accepted his challange and rode a great ride.
This is his email after completing the Scooter Cannonball
:

"Saying that I saw the country I served is an understatement. The reason I
saw it was because of the people in this country. Without all of you, this would
have never happened. Before, everything I ever saw in my life always took me
back to a place that it reminded me of. A rock face, Somalia or Afghanistan. A
bottle on the road would be Honduras or Bosnia. You do so much in the name of
freedom that it is actually the work of freedoms memories that confine you to
just remember that moment, no matter what you are seeing."

"Till now. Now sand beneath my boots will remind me of AZ, NM or California.
A rock face won't take me back to a fire fight, it will take me to Box Canyon.
This ride and all of you as you followed us have hit CTRL-ALT-DEL on my soul
and rebooted my heart and mind to be present in my country, in my home and in my life."

"And before I tear up again, everyone's comments and excitement was the best
part of it all. I have never felt so loved. And I wore the very boots, that I
have been deployed in for the last many years. The same soles on them have
landed on nefarious ground. And those same soles, brought me home and across the
land of my home."

Though the Special Operations Warrior Foundation is not our normal donation, The Big Red Scooter Project honors Sergeant Major Stacy Stapleton and his wife Maria for all the sacrifices they made for our country and their example of how to face together the challenges that life brings with our first donation. We think it is the right thing to do. Spiff lost his battle with cancer on 30 Jun 2012 just two months after finishing his ride of a life time.
---
---
---
Van the Man Green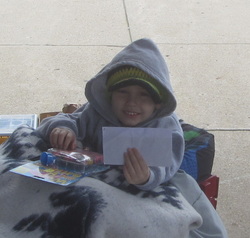 The Big Red Scooter Project
chose Van the Man to help him fight the fight.

We met Van the Man at a street fair in Bloomington, IN. His mother, Kristi Clouse, was manning a booth promoting Cancer Awareness. I was drawn to the booth by the design on the t-shirts hanging in the booth. Kristi told us the t-shirts were to raise money for her five year old son, Van the Man's fight against cancer.

In October, 2012 Van had been feeling a little under the weather and was diagnosed with a virus. As he continued to decline, further research revealed that he had a brain tumor. He was taken to a distant hospital by ambulance and was admitted. It was discovered that he had a Medulloblastoma brain tumor. This is a fairly rare cancer with less than 500 cases reported a year. Tumors grow quickly and can invade neighboring portions of the brain. If tumor cells get into the cerebrospinal fluid (CSF), medulloblastoma can spread to other areas of the central nervous system. In rare instances, it can spread outside the brain and spinal cord. To save Van's life, brain surgery was required, 6 weeks of proton therapy followed by 11 months of chemotherapy which he is doing now.

Van is a strong and determined five year old. As are his parents. We were extremely impressed by Van's mother's humble but very positive outreaching personality, while facing a unbelievable challenge. They were both upbeat and positive. The Big Red Scooter chose Van the Man as one of our most deserving people.

You can read all about Van the Man Green and get your own t-shirts here:
http://www.vanthemangreen.com/

Like Van at
https://www.facebook.com/pages/Prayers-for-Van-the-Man/302729059833235
---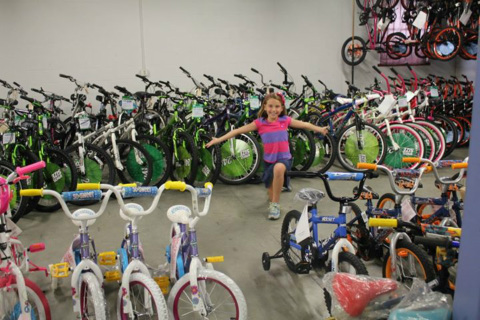 This is Callee. We will let her explain in her own words why we found here worthy of The Big Red Scooter random act of kindness.

"Hi! My name is Callee Connon and I am 9 years old. I am working on a project to help less fortunate kids get a bike for Christmas. I started this project 2 years ago because I think all children should be able to have a bike of their own to ride!!! I love riding my bike and can't imagine not having one to ride all around!"

Callee started in 2011 and through December 2013 has donated more the 100 bicycles from her little lemonade stand that she started as a school project. Callee is very deserving of The Big Red Scooter act of kindness.

More about Callee:
https://www.facebook.com/bikes4buddies?hc_location=timeline
http://www.wtsp.com/news/article/289617/250/8-year-old-turns-lemonade-into-new-bikes-for-less-fortunate
---
The
C.L.M.S
. fishermen are a group that's main purpose is to support the community and fishing. They have four major random acts of kindness a year; helping the National Park Service clean Portsmouth Island, N.C., a weekend of fishing with the residents of the Oxford orphanage, a weekend with the RHA/Howell Riverbend residents, and a Take Verteran Fishing Weekend. They ask for no recognition. They do it as a act of kindness to those less fortunate. Because of their character and mission The Big Red Scooter has made a donation to help them carry on this tradition of giving back
.
Read more:
http://www.clms4orv.com/
---